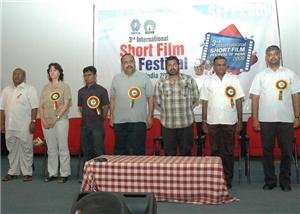 The Third International Short Film Festival of India (SFFI 2009) was concluded with an exceptionally outstanding Award Ceremony of SFFI 2009. This year, the SFFI received over 300 entries from 15 countries, produced by professional and amateur film makers.
The festival was held at South India Film Chamber of Commerce under the patronage of DBICA, a non-profit Media and Communication Arts organization with the mission to "celebrate the culture and art of the moving image through film making and film going experience of exceptional merit and diversity that challenge, transcend and entertain."
Mr. Balaji Sakthivel, a reputed and established Film Director, Mr. RD Rajasekar, acknowledged Cinematographer, Mr. Sasi, well known Film Director and Mr. M.S. Vadivelu a philanthropist & MD, Mathi Leathers Pvt. Ltd. and an ardent promoter of Short Films, Fr. Sagayaraj, Economer, Chennia Province, Mrs. Silvia Cromm, JDW, Germany Harris, Director DBICA. Fr. Harris spoke on behalf of the jury, and explained the way the ratings were done and stressed that there should be theatres that should regularly screen short films just as feature films and more organizations should promote short films and film makers.
The two-day festival, known for its diverse and cosmopolitan balance of films including various genres like drama, documentaries, animation, comedy, science-fiction and mystery, is a festive bonanza offered by Don Bosco Institute of Communication Arts (DBICA) to all the film lovers, media critics, film theorists, film students, and those associated with production of films.