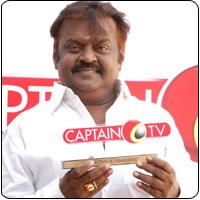 Finally Captain TV is on. After long struggle, Actor Vijaykanth  set to launch his 24 hour news and entertainment channel Captain TV on April 14, 2010.
The office of Sudeesh:- Vijaykanth's brother-in-law, who has produced many of his films, is buzzing with activity nowadays with the interviews and selection process of the crew for beginning the channel. Highlights of this captain Tv is, the channel will also show movies on a daily basis with new films every Sunday.
Vijaykanth actor-turned-politician has been working overtime to ensure that the channel provides quality content for Tamil audiences.