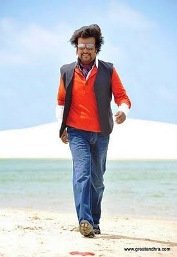 The audio of Robot, the Hindi version of his much awaited Sci-fi flick Enthiran, was released yesterday in Mumbai. Superstar Rajinikanth and BIG B graced the function. Bollywood Star Amitabh Bachchan released the audio CD and presented the first copy to Rajinikanth.
Director Shankar said It is an Indian film because it brings together best creative talent from India and abroad.
Superstar Rajinikanth Speaking at the event said Amitabh is his inspiration, role model and guru. I and Amitabh have done films like Andha Kanoon, Giraftar, Hum together and I can never forget the love, affection and care he showered on me.
In return to Rajni's comments, Amitabh Bachchan said that i had a long association with Rajini and values him as a friend and colleague. He is truly a son-of-the-soil who is admired and loved by every Indian. Given his humble beginning, Rajini is an example for every Indian. His simplicity, honesty, and down-to-the-earth nature have always impressed me
I admire him because of his tender heart and humility.