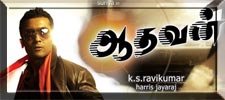 Movie : Aadhavan
Director: K.S. Ravikumar
Cast: Surya Sivakumar, Nayantara, Vadivelu, Ramesh Khanna, Saroja Devi
Music Director: Harris Jayaraj
Producer: Udhayanidhi Stalin
K.S. Ravi Kumar moved on to his debut with Suriya titled "Aadhavan". The movie will be produced by Udhayanidhi Stalin, grandson of Chief Minister M. Karunanidhi, under the banner Red Giant movies. The film will be co produced by M. Senbhaga Murthy and R. Arjun Dorai. The cinematography is by Ganesh and the Art Direction is by Rajeevan. Editing will be done by Don Max, and the stunts are by Kanal Kannan.
Nayanthara is the leading lady in Aadhavan. Vadivelu is doing an prominent role in Aadhavan which will make the film fun filled. The music is  done by Harris Jayaraj who has already given musical hits in Vaaranam Aayiram and Ayan .
The story is by R.S. Ramesh Khanna who is the comedian who works as an assistant with K.S.Ravi Kumar. The movie is expected to be a musical action adventure.
Song List
Hasile Fisile:- Karthik, Harini, Burn, Maya
Yeno Yeno Panithuli – Shail Hada, Sudha Ragunathan, Andrea
Dammaku Dammaku – Benny Dayal
Vaarayo Vaarayo – Unnikrishnan, Chinmayee, Mega
Dekho Dekho – Suvi Suresh, Sandhya, Sri Charan
Maasi Maasi – Mano, Mega