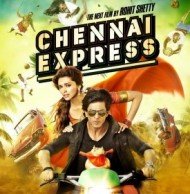 Rohit Shetty's latest Movie was Chennai Express. The movie Chennai Express has Shahrukh Khan and Deepika Padukone in lead. The film produced by UTV.
Deepika Padukone made a dream debut opposite Shah Rukh Khan in the 2007 movie Om Shanti Om, reunites with the superstar on screen for Chennai Express. Chennai Express is about a man's journey from Mumbai to Rameshwaram and what happens along the way.
Hope the movie comes Up well and treat to watch both Shahrukh Khan and Deepika Padukone once again in different role.
The production house UTV was announced that the film's writer was K. Subaash.