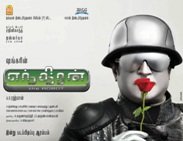 The Endhiran audio launch function was held in kualalampur, malaysia. Everyone expected that sun tv will launch the live relay of the live function. But it is not live in india. They are telecasting the program on august 15th 2010. But the show was telecasted live in malaysia in the Astro Vaanavil channel.
The audio launch event was peppered with onstage dance performances, screening of songs, trailer and speeches. Endhiran's music is scored by double Oscar winner A R Rahman and the audio hit the shelves yesterday at audio stores and was available for listening online as well.
There are 7 songs in the Endhiran audio CD and the entire album has a Techno feel to it, probably Rahman's decision on the composition given the sci-fi nature of the film.
Shankar-Rajini Combination along with AR Rahman and Aiswarya with the budget ranging from 165 to 200 crores and one doesn't need to explain the expectation level for this mega budget venture.