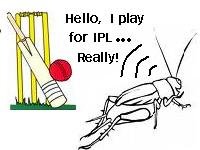 This person is definitely grabbing a lot of attention in this season of IPL. The person has been blogging about his team and the discussions that generally take place off the field and the events that take place in the dressing room. He says that he will post about all the action taking place in the dressing room and in coaching.
This blogger calls himself a member of the Kolkata Knight Riders team and through his posts its shows his clear hatred towards the co-owner Shah Rukh Khan and coach John Buchanan. And is also posting about the post match parties too. The blogger is playing a safe game by not directly mentioning the names of the characters instead he has given them nick names with an explanation on how that name arrived. Well thats super-cool man.
His way of narrating things that are happening inside the team is absolutely fantastic.By the way IPL-2 being quite a bore with the matches being washed away by rain and the poor crowd turning up for the match, all i need is some action and entertainment. Which i'm definitely getting by reading the articles posted by you in your blog.
Who ever you are man once you get caught you are gonna be screwed for sure. But who cares, as of now your posts are better than the matches. You rock man and keep rocking !!!