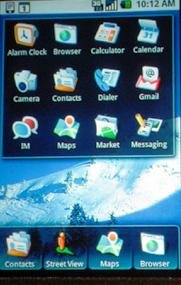 It is predicted that Google's Android mobile operating system could be running on 18 to 20 devices by the end of the year.
According to Andy Rubin (Google's senior director for mobile platforms), about 18 to 20 phones from eight to nine manufacturers will come with Android OS installed on them by the end of the year.
Android will continue to be open source. Manufacturers will have the option of installing android "obligation-free" onto their devices, which means the user will have access to the OS but not Google Apps such as Gmail, Google doc, etc.
A second option for manufacturers that sign a distribution agreement with Google will allow them to pre-install Google Apps onto their devices.
The third option knows as the Google Experience opens up the manufacturer's devices to Google Apps and the Android Market. Phones which fall under the "Google Experience" will also be branded with the Google logo on the physical handset.
A number of companies have announced plans to roll out Android-equipped smartphones. HTC is currently preparing Google Android smartphones for the Chinese and Canadian markets for a June rollout.
On top of this, Android is also being ported onto mini-notebooks which also known as "netbooks," as an operating system. With research firm IDC estimating that netbook shipments will grow from 11.4 million in 2008 to 22 million in 2009 hence the market represents a potentially massive growth area for Android.