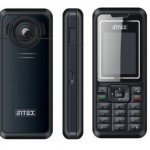 Intex Technologies has launched a mobile handset for rural India with 45 days battery life. The mobile handset comes with very useful features. This mobile handset is priced at Rs 2999 only.
In rural areas where electricity outage is the norm, the 45 days standby time for the mobile phone is a feature that people cannot ignore.
The mobile manufacturing companies are now devising new strategies to reach out India's predominantly rural areas where mobile density is still low.
The newly launched mobile handset from Intex features:
*FM radio
*Camera
*Expandable memory
*MP3 audio player
*1000 contacts phonebook memory.
The phone comes equipped with a powerful 1800mAh rating battery – the phone offers a talk time of 9 hours and 45 days stand-by battery life