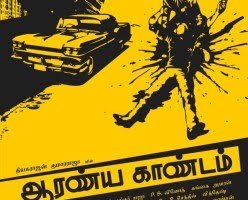 Aaranya Kandam is a gangster flick that records the events that happen in the life of a few of them on a particular day. Realistic and natural dialogues spice up the proceedings of Aaranya Kandam. Kumararaja makes amends with his women audience in this pithy expression for his statements of women in the earlier part of the film.
Yuvan Shankar Raja is one of the major plusses for Aaranya Kandam. Aaranya Kandam produced by SPB Charan and directed by newcomer Thyagarajan Kumararaja. The manner of narration and screen play is commendable.
The picturization of the climax action sequence between Sampath and Gajendran is done in an interesting manner.. Intelligent humor is sprinkled all over and is enjoyable. Ultimate twist during climax is something unpredicted and makes the proceeding all the more interesting.