Billa 2 starts with the story that tells the meteoric rise of David Billa to the top of underworld. The civil war which broke out in Sri Lanka makes David Billa, who has lost his parents, to arrive at Rameshwaram as a refugee. It does not take much time for him to stand for what he believes is right for him.
From an ordinary man, he went on to become the king of crime syndicate, killing all those who go against him. The actor looks young and energetic in the role of a gangster. Especially, his varied looks and the helicopter stunt sequence will get a huge round of applause.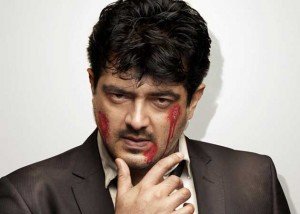 David Billa's words are as sharp as his bullets. He likes to be trusted and does anything for money. You are inviting trouble if you are against him and he can give you his life if you are his friend.
It is no easy task to do such a character, but he does it well. Especially the climax stunt sequence is a treat for Ajith fans.Parvathy Omanakuttan and Bruna Abdullah seem to play cameos. Parvathy Omanakkuttan is demure, while Bruna Abdullah provides the glamour with her bikini
Sudhanshu and Vidyut are majestic and have terrific screen presence. Also the film has Ilavarasu, Manoj K Jayan and Rahman.
Rajasekhar's camera speaks a lot in Billa 2. Yuvan's music is a letdown. Dialogues by Era Murugan are worth to listen.The stunts are a joy to watch.
Verdict: Billa 2 sparkles in moments. It is a thorough entertainer for Ajith fans. It is a treat to watch his stylish looks backed by excellent dialogues.
Rating: 4/5*