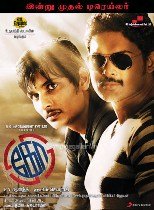 K.V. Anand's much awaited Ko, starring Jiiva and Karthika. Harris Jayaraj has composed the music while Richard Nathan cranks the camera. Jiiva is one actor who keeps reinventing himself in each movie and emerges successful each time. With Ko, he has reached the next level
Ko is the story of the entwined lives of an adventurous, honest, astute photo journalist Ashwin (Jiiva) and an aspiring young politician Vasanthan (Ajmal). Among the others in the lead cast it is Piaa with her comic timing who scores a tad higher than Karthika and Ajmal. Her small yet meaty role gives her scope and she has a good screen presence.
Dialogues are one of the strong points in the film. The twist in climax is the biggest plus. The film making is nearly flawless and excels in places where he brings in slice of life incidents to invoke humor. The director has aptly mixed intelligent and commercial cinema in Ko.