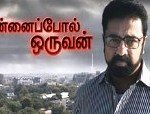 Kamal hasan stepped into the world of acting when he was a child of six years of age in the movie " Kalathur Kannamma". He  is bestowed with the unique distinction of being an actor whose works continue to represent India at the annual Academy Awards competition under the best foreign film category. His involvement with the world of creativity is not only relegated to acting, but he packs it with being a choreographer, a director, a lyricist and a singer to boot.
Together with Rajnikant he stands as one of the tallest figures that the world of Indian cinema has ever seen, more so Tamil Cinema and the way he is still enticing the movie crazy public, South of the Vindhyas would indeed be having a real treat.
Kamal Hasan, the Universal Star is presently doing a project named " Unnaippol Oruvan" and this is his 50th year of Indian cinema.
Unnaipol Oruvan, Kamal Hasan's current project, is not special simply because he is teaming up with Mohanlal for the first time in a Tamil film. He is an actor in the real sense of terms who continues to persevere never bothered about the image but interested more in interpreting the characters that he plays.
Kamal Hassan also is one actor who has been single-handedly going into the realm of the glorious past of our history and interpreting history in the modern conceptuality.
The release of this film Unnaipol Oruvan has been postponed to September.