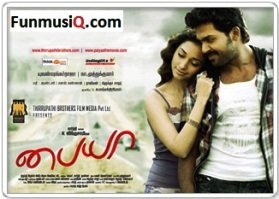 Movie: Paiya
Cast: Karthi & Tamanna
Direction: Lingusamy
Banner: Thirupathi Brothers
Production: Subash Chandrabose
Lyricis: Na.Muthukumar.
Music: Yuvan Shankar Raja.
Lingusamy, in an interview said that the songs have come out well. Paiya is an upcoming movie of director Lingusamy. The movie features Paruthiveeran Karthi and Tammanna. The film is said to be a commercial one, love story of a young man and a funky girl traveling from Bangalore to Mumbai, who makes acquaintance with various characters. This movie is produced by Subash Chandrabose, under the banner Thirupathi Brothers. The film has a great expectation for Karthi, as he gave a high performance in his debut film Paruthiveeran, which was a sensational hit.
Milind Soman is also said to be doing an important role in the movie. Music, scored by Yuvan Shankar Raja and camera handled by Mathi. There were controversies about Nayanthara, who was first opted for this film, regarding date and payment problems and then Tammanna was selected to the role.
Song List:
Thuli Thuli : Haricharan & Tanvi
Poongatre poongarte : Benny Dayal
Adada Mazhaida : Rahul Nambiar & Saindhavi
Suthudhe Suthudhe : Karthik & Sunitha Sarathy
En Kadhal SOlla : Yuvan Shankar Raja & Tanvi