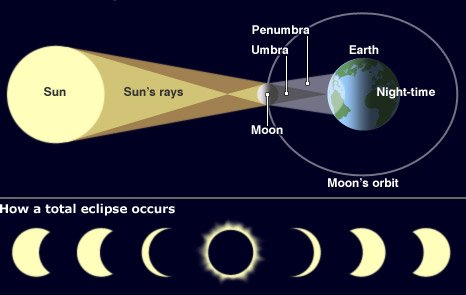 The longest total solar eclipse this century, Wiil be seen over large areas of India and China. The Total Solar eclipse could first be seen early on Wednesday in eastern India, though in some regions there was thick cloud.
It has been moving east across India, Nepal, Burma, Bangladesh, Bhutan, China and the Pacific. The eclipse first became total over India at 0053GMT. It will cross some southern Japanese islands and will last be visible from land at Nikumaroro Island in the South Pacific nation of Kiribati. It will end at 0418GMT. A partial eclipse is visible across much of Asia. The next total solar eclipse will occur on 11 July next year. It will be visible in a narrow corridor over the southern hemisphere, from the southern Pacific Ocean to Argentina.
In India, millions gathered in open spaces from the West coast to the northern plains, with clouds parting in some cities at dawn just before the total eclipse. In India and Nepal, where it is considered auspicious to watch the eclipse while immersed in holy water, crowds gathered at rivers or ponds, including tens of thousands of people at Varanasi on the Ganges.
Some parents in New Delhi kept their children from attending school at breakfast because of a Hindu belief that it is inauspicious to prepare food during an eclipse, while pregnant women were advised to stay inside due to a belief that the eclipse could harm a foetus.
Authorities in China, where an eclipse was a bad omen in ancient culture, have been reassuring the public that services will run normally.
The most recent total eclipse, in August 2008, lasted two minutes and 27 seconds. This one will last six minutes and 39 seconds at its maximum point.