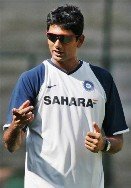 The national team's bowling and fielding coaches Prasad and Singh had faced heavy criticism over the team's poor bowling and fielding, which saw India fail to make the semi-finals of the World Twenty20 in June and the Champions Trophy last month.
The Indian cricket board has decided to discontinue the services of bowling coach Venkatesh Prasad and fielding coach Robin Singh with immediate effect. The board is expected to name their replacements before the seven-match one-day home series against world champions Australia, which opens on October 25. It is said that Gary Kirsten and captain Mahendra Singh Dhoni were not part of the decision.
Srinivasan did not detail why the two former India internationals, who had been involved with the national team since the tour of Bangladesh in May 2007, were removed.