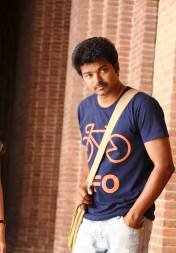 Maalai Nerathu Mazhaithuli a Vijay and AR Murugadoss movie are all set to begin. As this is a Murugadoss film, we can expect something very different in the action and romance department.
The film is scheduled to begin on November 23rd and hopefully wrap up by February. This going to be quick paced film and shooting. Harris Jeyaraj, will be doing the music and cinematography will be handled by Santhosh Sivan.
Vijay's heroine will be Angela Johnson, a Kingfisher calender girl has been roped in for this movie. This film is going to be a cracker in actor vijay's career.