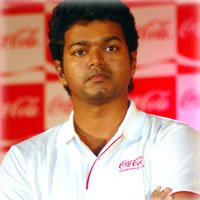 Coca Cola Meet Illayathalapathy Vijay contest:
How you can meet  Illayathalapathy Vijay?
According to the Coca Cola press release about Coca Cola Meet Illayathalapathy Vijay contest, the consumers just needed to buy a bottle of Coca-Cola, look under the crown for the seven digit unique code and SMS 'VIJAY' followed by the unique code or call the toll free number.
Speaking at the event Vijay said, I am very excited to be a part of this unique initiative by Coca-Cola. Events like these provide me a great opportunity to be with my fans. I am thankful to Coca-Cola for giving me this opportunity to meet my fans.
The winners were selected by answering two simple questions related to Vijay and Coca-Cola. Thirty lucky winners of the Coca Cola Meet Vijay contest go to meet their favorite star.