Today most of the people prefer to buy LCD TV. Samsung is one of the biggest competitor in the world in producing LCD TV. Samsung has always been at the forefront of TV technology and is known for its award winning innovations.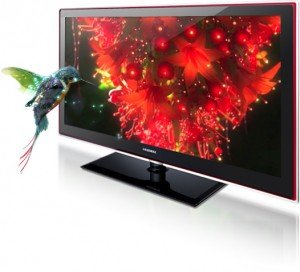 Samsung is generally known for its quality in HDTV. LED LCDs is an improved version of LCD TV. The LED TV use low electricity and it is an environment-friendly product. It is completely based on a new LED technology. LED is nothing but Light Emitting Diode which as a result gives bright picture quality. And this also enables the TV to display a wider range
of natural colours and provide greater depth. The LED technology helps Samsung's LED TV to be 70 percent more slimmer and consumes less power other than conventional LCD TVs. LED LCD is the most important ingredient in high quality image performance which provides higher contrast than the regular LCDs.
LED TV presents you Great Picture and Great Sound. In addition to that it has Samsung WS1* Sound Bar Surround System.
It has sound modes for Cinema, Games, Music, etc.
Samsung LED TV's launched in India for the first time . At present Samsung has introduced Samsung LED TV's series 6 & 7. .
The two series of Samsung LED TV's  are as follows
Series -7 :
LED TV Series 7 is one of the slimmest television in the world.
 
   1. UA46B7000 – "46"
   2. UA40B7000 – "40"
Series-6:
LED TV Series 6 is incredibly beautiful advanced slimmest television.
   1. UA46B6000 –  ("46″)
   2. UA40B6000 – ("40″)
These Samsung LED TV series 6 & 7 has the following new features :
   *  Actual Width of the LED TV is 2.99 cm
   *  100 Hz Motion plus
   *  Crystal design, (instead of "Touch of color" that is used in US.)
   *  Samsung WS1* Sound Bar Surround System.
   *  Mega and Dynamic contrast ratio.
   *  it saves about 40% of the energy compared to the conventional televisions.
Samsung LED TV's series 6 & 7 is the Picture Perfect LED TV -experience it!