Is Vijay frustrated about the villu Flick?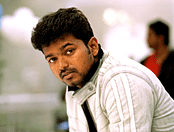 Vijay had been visited many theatres around Tamilnadu's various districts for "Villu" movie at that time a media people asked about Villu's failure "actor himself lost all his control and shouted unknown persons in the press meet.
Now he left all behind..now started Vettaikkaran. Vijay's intro song in Vettaikkaran is currently shooting in Rajamundry. The shooting is expected to end on March 18th, after which the crew will move to Chennai to film some talkie portions.The intro song is being shot in a magnificent set built by Milan at a cost of several lakhs of rupees.
Babu Sivan stated that all the other songs will be shot in foreign locales. He further added that Vijay will don four different getups in a song!
Anushka, the leading lady, plays the role of a software engineer. And this young lady is going to be quite an attraction in the movie, says Babu Sivan.
Fans and Mass Audiences waiting for the movie Vettaikkaran to deliver big hit..