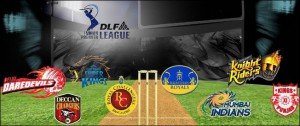 IPL is played in a entertaining T20 foramt which is adored by all the cricket lovers.
 Indian Premier League is all set to commence on April 18 at South Africa. The second season of IPL is ready to entertain us.
The teams to participate in IPL are :
Chennai Super Kings, Kolkatta Knight Riders, Bangalore Royal Challengers, Hyderabad Deccan Chargers, Mumbai Indians, Delhi Dare Devils, Rajasthan Royals, Kings XI Punjab.
Get Ready for the exciting tournament. IPL rocks!!!
IPL Matches Schedule 2009
Date Matches
Apr 18     Mumbai Indians vs Chennai Super Kings –  Cape Town
Apr 18     Rajasthan Royals vs Bangalore Royal Challengers – Cape Town
Apr 19     Delhi Daredevils vs Kings XI Punjab –  Cape Town
Apr 19     Deccan Chargers vs Kolkata Knight Riders –  Cape Town
Apr 20     Chennai Super Kings vs Royal Challengers – Port Elizabeth
Apr 21     Kings XI Punjab vs Kolkata Knight Riders – Durban
Apr 21     Rajasthan Royals vs Mumbai Indians – Durban
Apr 22     Bangalore Royal Challengers vs Deccan Chargers – Cape Town
Apr 23     Chennai Super Kings vs Delhi Daredevils – Durban
Apr 23     Kolkata Knight Riders vs Rajasthan Royals – Cape Town
Apr 24     Bangalore Royal Challengers vs Kings XI Punjab – Durban
Apr 25     Mumbai Indians vs Deccan Chargers – Durban
Apr 25     Chennai Super Kings vs Kolkata Knight Riders – Cape Town
Apr 26     Bangalore Royal Challengers vs Delhi Daredevils – Port Elizabeth
Apr 26     Kings XI Punjab vs Rajasthan Royals – Cape Town
Apr 27     Deccan Chargers vs Chennai Super Kings – Durban
Apr 27     Kolkata Knight Riders vs Mumbai Indians – Port Elizabeth
Apr 28     Delhi Daredevils vs Rajasthan Royals – Pretoria
Apr 29     Kolkata Knight Riders vs Royal Challengers – Durban
Apr 29     Kings XI Punjab vs Mumbai Indians – Durban
Apr 30     Deccan Chargers vs Delhi Daredevils – Pretoria
Apr 30     Rajasthan Royals vs Chennai Super Kings – Pretoria
May 1     Mumbai Indians vs Kolkata Knight Riders – East London
May 1     Kings XI Punjab vs Bangalore Royal Challengers – Durban
May 2     Deccan Chargers vs Rajasthan Royals – Port Elizabeth
May 2     Delhi Daredevils vs Chennai Super Kings – Johannesburg
May 3     Kolkata Knight Riders vs Kings XI Punjab – Port Elizabeth
May 3     Bangalore Royal Challengers vs Mumbai Indians – Johannesburg
May 4     Chennai Super Kings vs Deccan Chargers – East London
May 5     Rajasthan Royals vs Kings XI Punjab – Durban
May 5     Delhi Daredevils vs Kolkata Knight Riders – Durban
May 6     Deccan Chargers vs Mumbai Indians – Pretoria
May 7     Bangalore Royal Challengers vs Rajasthan Royals – Pretoria
May 7     Kings XI Punjab vs Chennai Super Kings – Pretoria
May 8     Delhi Daredevils vs Mumbai Indians – East London
May 9     Deccan Chargers vs Kings XI Punjab – Kimberley
May 9     Chennai Super Kings vs Rajasthan Royals – Kimberley
May 10     Mumbai Indians vs Royal Challengers – Port Elizabeth
May 10     Kolkata Knight Riders vs Delhi Daredevils – Johannesburg
May 11     Rajasthan Royals vs Deccan Chargers – Kimberley
May 12     Royal Challengers vs Kolkata Knight Riders – Pretoria
May 12     Mumbai Indians vs Kings XI Punjab – Pretoria
May 13     Delhi Daredevils vs Deccan Chargers – Durban
May 14     Royal Challengers vs Chennai Super Kings – Durban
May 14     Mumbai Indians vs Rajasthan Royals – Durban
May 15     Kings XI Punjab vs Delhi Daredevils – Bloemfontein
May 16     Chennai Super Kings vs Mumbai Indians – Port Elizabeth
May 16     Kolkata Knight Riders vs Deccan Chargers – Johannesburg
May 17     Kings XI Punjab vs Deccan Chargers – Johannesburg
May 17     Rajasthan Royals vs Delhi Daredevils – Bloemfontein
May 18     Kolkata Knight Riders vs Chennai Super Kings- Pretoria
May 19     Delhi Daredevils vs  Royal Challengers – Johannesburg
May 20     Rajasthan Royals vs Kolkata Knight Riders – Durban
May 20     Chennai Super Kings vs Kings XI Punjab – Durban
May 21     Mumbai Indians vs Delhi Daredevils – Pretoria
May 21     Deccan Chargers vs  Royal Challengers – Pretoria
May 22                        Semi Final 1 – Pretoria
May 23                       Semi Final 2 – Johannesburg
May 24                            FINAL – Johannesburg