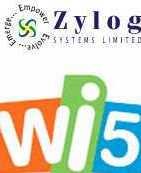 Wow!! WI-FI in chennai (India). Zylog Systems India Ltd, a developer of software solutions, has forayed into ISP (internet service provider) business with the launch of Wi-Fi (wireless fidelity) enabled broadband services here in chennai.
The company has kicked off its Wi-Fi service under the brand Wi5 in select areas of the city : Adyar, Besant Nagar and T Nagar and would expand its services covering entire metro in the next 15 months. As a trial run, the company has implemented Wi-Fi access for broadband services in Ripon Buildings.  Zylog has obtained a category 'A' ISP license to operate in all of India's telecom circles and plans to enter other metros in the near future.
Ramanujan Sesharathnam, managing director of Zylog Systems India Ltd Said that the company expects a revenue of Rs 500 crore in the next five years through the Wi-Fi business. Speaking to media persons here on Sunday, he informed the company has adopted a mesh network architecture which it believed would provide high mobility, speed and security. Wi-Fi nodes would be set up on the roof tops in select buildings across city and customers with a Wi-Fi enabled lap tops or PCs could access the prepaid internet service.
The overall Indian Wi-Fi market was predicted to grow from the current $41.57 million to exceed $744 million by 2012, at a CAGR (compounded annual growth rate) of 61 per cent over the next three years.