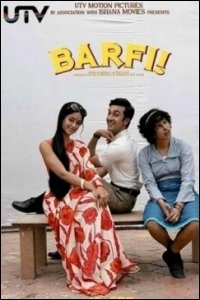 Ranbir's deaf and mute act, Priyanka's autistic character and Ileana's Bollywood debut ensured that Barfi carried huge pre-release hype. What it's result.? It lived more than the expectations.
The initial romance track between Ranbir and Ileana is sheer poetry. The movie is also rich in comedy thanks to Ranbir's amazing versatility. It takes tremendous guts for a top notch glam queen like Priyanka Chopra to go totally offbeat. Ileana has a dream debut and she turns out to be quite the charm.
Ranbir Kapoor is a true once in a lifetime performer. His ease at histrionics, emoting, entertaining, his charm, his looks. Barfi is also brilliant technically with all the departments working in perfect synergy to ensure the director's vision being translated flawlessly.
Ravi Varman's frames are picture perfect. The movie has a green, yellow color theme to symbolize vibrancy and happiness.
Overall a Nice and wonderful Movie.